The judge was Dutch, and we watched as he judged the rats. He used a piece of carpet on the table and placed every rat on it in turn, to observe its conformation and its overall shape, setting the rats to pose, rather like rabbit judges do at rabbit shows. Very few of the rats were nervous and all appeared to have excellent temperament, bold and curious but amenable to his handling and judging style. All the rats got a critique at the end of the show, and were scored with points out of 100.

The rats were all exhibited in standard small-animal carriers, of varying sizes, some with two or three occupants. Exhibitors are permitted to handle their rats at any time during the show, and show rules insist that food and water must be constantly available to all rats during the show.

Like the Knagerfestijn, an area had been set up beside the show hall with chairs and tables, where visitors and exhibitors could sit, relax, talk and smoke. We appreciated this immensely, as it gave us the chance to socialise with various exhibitors we met. I felt it is something our rat shows are lacking, and would be a wonderful addition, if just a small section of the hall could be set with chairs and three or four tables for this purpose.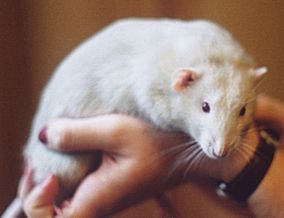 An enormous percentage of the rats were Dumbo, as this variety has taken Holland by storm. Everyone loves them and I received some very surprised looks when I attempted to explain the current situation in the UK.

The IRF recognises Dumbos, but does not allow Hairless or Tailless rats at their shows. Dumbos have risen to become the most popular variety of rat in Holland over the past few years, contributing a great deal to the popularity of fancy rats in general and bringing many new members into the clubs.

I was very pleased to meet a handsome Platinum berkshire Dumbo buck bred by Chris Casteels of Dagmar's Rattery in Belgium, the litter brother of Dagmar's Xillion owned by Marion Benham, Dagmar's Xerxes owned by Nick Mays, and others from the same litter who were exported to the UK in July. He has matured into a beautiful rat, a smooth pale platinum colour all over, with a strong head and good ear set. I was very pleased to see that he was later on awarded Best In Show - the trophy he won was at least two feet high.

I was keen to see a Pearl Merle, and yes, a Pearl Merle Hooded Dumbo was there, a buck named Dunkin Donut, who I had the opportunity to handle. It was explained to me that this rat was in fact a "Mink Pearl" Merle, which is what is called dark-phase Pearl in the UK, not a standardised colour in my country, but recognised in Holland.

The buck I handled was not, I was told, a terribly good merle, but the rat had numerous small spots and flecks of solid mink in the coloured parts of its coat, on the hood and saddle - a very attractive effect. I feel it is just as attractive on the dark pearl as it is on full pearl, and hope that when we eventually get the variety to the UK we can develop both shades.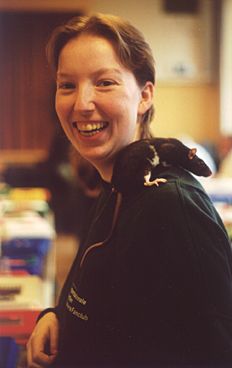 One very important part of our visit was to see the new Down Under rats from Australia, and meet Pauline van Berkel from Rattery Horlepiep, the Dutch breeder who imported them a few months ago - the only Down Unders outside Australia and New Zealand.

Pauline had brought a couple along for us to see, knowing we were coming with this idea in mind! The black Hooded Down Under was the most striking, with a broad black band filling most of the stomach area. I noticed this rat earlier in its tank, and did a double take - it took a few seconds to realise the black and white hooded rat reaching up to the top actually also had a BLACK belly!

The black Berkshire Down Under was also interesting. Imagine a normal black berkshire rat with a good wide white belly. Now take a black pen and fill in most of that white, leaving just a thin spotted white line at the edges, between the front and back legs. That's a berkshire Down Under. I am told by the Australian breeders that some can be more strikingly spotted and that these are very attractive. The Down Unders that Pauline has imported were bred by Tracey York of RatmanDU Rattery.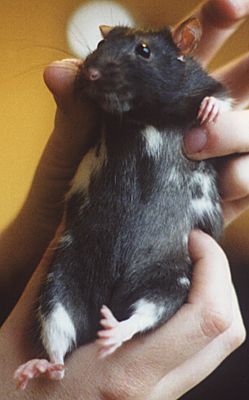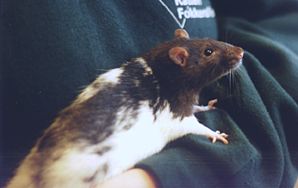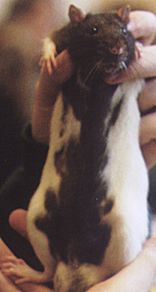 Pauline also imported some Fawn rats from Australian breeder Yvette Hemberg, of the Carawatha Rodentry. At first glance from a short distance I thought it was a cinnamon pearl, but on closer inspection it was a very intensely coloured Topaz. The ticking was blue, and the undercolour was also a strong blue, and the fawn was truly rich and deep. This colour was very close to an Argente gerbil or mouse, quite different from our usual Topaz. It made the topaz look washy in comparison, though the genetics are similar.
We were pleased to meet Dumbo breeder Gaby Penders, Rattery Con Azzuro [left]pictured here with her chinchilla blazed berkshire Dumbo doe, Dagmar's Xeminem, litter sister to the BIS winning Platinum dumbo buck. Gaby also owns a very sweet blue-point Siamese dumbo doe, named Magnolia's Morning Glory [above].

Other exhibitors I met included Charity Schutte, from Het Muizenhuis rattery, and Viola Scheepmaker, [right]from Rattery Viola. This was a most interesting meeting for me, since Viola specialises in Russian Blue. Viola's Ace and Viola's Adish appear somewhere in the pedigrees of Russian Blues in the UK, and came from the very first litter of rats she bred.
Even more delightful was to meet up with Carine Vereecke again, from Rattery Zonien in Belgium, who bred some of the Dumbos I imported to the UK earlier in the year. What a surprise that was, I'd had no idea she would be going, and she hadn't suspected I might turn up!

Among the rats she was exhibiting was a Silver Fawn buck bred by Ann Storey (Rivendell Stud) which I took over for her earlier in the year. "Scar Tissue" as he is named (after a Red Hot Chilli Peppers song) is a huge buck with a classic English-style head shape and solid build. Also there was "Rednex", a Cinnamon Pearl bred by Lucie Mann, another UK export.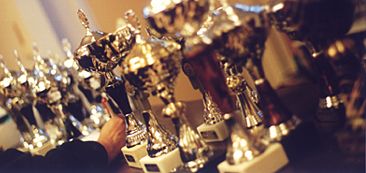 At the end of the day, the huge array of gleaming giant trophies arranged on the edge of the stage were awarded. Not only the winners, but all places down to 6th are given a trophy; the first four placings receive a tall shiny pedestal, and the others have a shield. Scar Tissue won a 3rd place trophy for Carine, and Rednex was awarded a 1st prize trophy.
After the show, we were given a lift back into Rotterdam by Pauline and her partner Marcel, where we enjoyed a meal at a crowded authentic chinese restaurant, and talked rats. "Why did you decide to import rats from Australia?" I asked Pauline. "Oh, for the adventure!" she laughed. An expensive adventure, but one which has brought a completely new variety to Europe. Pauline also brought in a pair of rats from a line which is unusually long-lived, most reaching 3 - 4 years of age.
An early night was in order, but the next day we had a few hours spare before catching the boat train home at 3pm. We pored over the map and decided to catch a tram which would take us a little further around Rotterdam. The skyscrapers were quite beautiful, mirrored black glass that captured the clouds and the reflections of the water. We crossed the stunning Erasmus bridge, a suspension bridge suspended only at one end, passed the tiny Noorder Eiland in the middle of the Niewe Maas harbour, crowded to the edge with tall houses, and went right out into the suburbs to the end of the line at the extreme south east of the city, before taking the same tram back again.
And then, alas, it was time to return. Glowing with good memories of a great weekend, tired beyond mere weariness, we set off homewards on the double-decker train, vowing with eyes and minds as the last piece of Dutch countryside passed by outside, to return as soon as possible.
---

SHOWS IN HOLLAND 2001
21st April at Maasluis - IRF Show
28/29th April at Arnhem - Het Knagerfestijn (The Rodent Festival)
---
ALL TEXT, GRAPHICS AND PHOTOGRAPHSCOPYRIGHT © 2000 SUE BROWN/PENDRAGON
NO PART OF THIS WEBPAGE MAY BE REPRODUCED OR COPIED WITHOUT PRIOR PERMISSION OF THE AUTHOR.