---
by Sue Brown
Photo of a Wichien Maas by Jakkapat Kangwan

Siamese cats are still to be found in their native land of Thailand, where they have existed for hundreds of years.

Sue Brown and Martin Clutterbuck have researched the origins of this famous breed in its homeland, together with other native Thai breeds such as the Copper (the ancestor of the Burmese and Tonkinese). Their findings, together with Martin's full academic study and translations of the ancient Siamese Cat-Book Poems manuscripts, have recently been published in a book, "The Legend of Siamese Cats."
---
All the photos on this page are taken from The Legend of Siamese Cats book and are under strict copyright control.
---
In February 1995, I made my second journey to Thailand to study the Siamese cat in its homeland. My colleague, Martin Clutterbuck, had been translating the Cat Book Poems of Siam after being granted a research permit by the Thai Government, now published in our book. An important part of my second visit was to see the Chiang Mai cattery, world-famous for preserving the traditional Thai breeds - Siamese included.

Yai (Jakkapat), our photographer, missed the train. Martin moaned for hours. The train clattered slowly into the night passing mountains, forests and hills which blended with the black night sky, studded with the starry lights of distant villages. Sometimes the horizon glowed neon orange from forest fires and the smoke drifted across the tracks.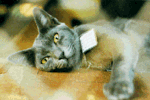 We arrived in Chiang Mai as the sun rose through the wispy morning mists. I liked Chiang Mai immediately: the city's moated walls, its sense of history and, more important in late February when the rest of Thailand is stewing in a humid 34°C, it was a little cooler up here in the North. Jungle clad mountains formed a scenic backdrop to the city which had once been Lan Na, "The Kingdom of a Thousand Rice Fields" and Siam's ancient Northern capital. After lunch we made contact with Malee Rose and she drove us to her famous Chiang Mai Cattery, the home of all cats Thai.
Ed and Malee Rose have a large breeding cattery on the outskirts of the city, next to their house and set amid beautifully maintained gardens. Ed, an American, is a lecturer at the Chiang Mai University and his wife Malee, who is Thai, teaches languages for the American Institute. Even though Martin speaks Thai like a native, I was much relieved to hear Malee's excellent English, as Ed was not yet home. But in any case, I would have been happy to speak to no-one, as immediately I was surrounded by a pack of cats burning with curiosity to see the visitors.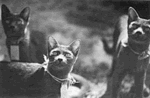 From all corners of the garden cats came running. Around my feet swirled brown, blue, white, black and colourpointed furry bodies which reached up to pat my knee or stared in fascination as I, equally fascinated, stared back. I stood marooned in a sea of cats in the centre of the rich green lawn and watched delightedly as adults and adolescents alike chased one another up and down the trees, wrestled and tumbled around everywhere, or galloped about in an excess of energy. Their coats glistened like satin in the bright sun. Malee smiled, and left me to play with the cats while she and Martin talked academically.
The Roses have, adjacent to their house, a large permanent block built cattery with about six good-sized communal pens, mesh sided for ventilation. Tarpaulin sheets are rolled down over the sides at night, for even in Thailand's tropical climate, it can get cool in the North at certain times of the year. In each pen lives around ten or twelve adult females, entire and neutered, with the studs housed in smaller pens at the other end of the main cattery. Each group has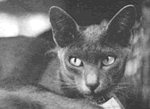 its own time of day for total freedom in the garden. Stray cats are not much of a problem as their home is situated at the end of the lane and there are fields adjacent. In any case, any strays often end up as residents, such as the tabby who visits at the same time every day for dinner, or the old white neuter who has part of one leg missing.
With regard to the other cats, I immediately noticed one important thing: they all had straight tails. In Thailand, as in most of Asia, the great majority of cats own shortened, bobbed or kinked tails. This is the norm, and in case you weren't sure, they are born like that - not, as a fellow passenger on the plane told me the first time I went to Thailand, because the Thais cut off their tails at birth out of jealousy for the cat's beauty, for nothing can be as perfect as the Buddha! Hardly able to suppress my amusement, I gently told him the real truth...
Although there is not much in the way of a show or breeding scene in Thailand, there was a brief interest in the 1970's, and cat books were written in Thai containing the Western standards for Siamese cats. Ed and Malee, having had a lot of contact with show breeders world-wide, have amassed an impressive library of cat books from England and the U.S.A. and have exported their cats to many breeders in the rest of the world. From an early stage they became aware that straight tails were more acceptable in most of the breeds and have bred towards that quite successfully. Their greatest success is with the sending of Thong Daeng (Copper) cats to bring fresh blood into tired Burmese bloodlines in Europe.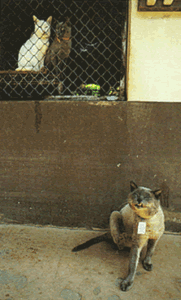 The Thong Daeng (pronounced "tong deng") is an original ancestor of the Burmese. It is also known as the Copper, or the Suphalak (pronounced "soo-pa-lack"). The two breeds are so close that when I saw a lovely Thong Daeng queen and commented on her beauty, Malee informed me that it was a Burmese (half Copper) imported from Denmark! The Thong Daeng does have slightly differing type - it has the general Thai cat type - but in all other respects it is very similar to the European Burmese.
Thai cats on the street seem to fall into two type categories. Some are like the Traditional Siamese - the Siamese cat which came direct from Thailand in the 19th century. Others are more like cats in the Asian group of breeds with larger eyes and slightly snub noses, though it must be stressed that there appears to be a great difference between the sexes. Females seem to be smaller with finer, delicate heads and an "Asian" look, while adult males resemble the photographs of old Siamese from Victorian times (which were mainly of entire males); a much heavier looking cat with huge jowly heads. Both kinds can be seen everywhere, town and country, in Thailand and interbreed freely, like our moggies, as all the breeds of Thai cat are but colour variations of the same breed. Only in the hands of breeders such as the Roses are the cats bred with selection and care, with minimal intermixing of colours.
Inside the Rose's comfortable home we saw a litter of young Coppers, around three or four weeks old, just beginning to toddle. Pregnant queens are brought into the kitten room, which has a large glass window opening into the hall, where they may be safely observed during the critical weeks. "We had a Copper queen, once," laughed Malee, "who had the run of the house and learned to use the lavatory!" A remarkable feat, I thought, until I saw that the well-appointed bathroom contains not only a modern flush toilet but also a traditional Thai floor-level convenience. Martin also reports that his two Siamese- and Tonkinese-coloured pet Bangkok alley cats would use his Thai appliance during the night, or at least, get as close to it as they could. Clearly, natural Thai cats are nothing if not resourceful, and as intelligent as Siamese in the West have always been.
I spent two full days with the Chiang Mai cats, and enjoyed every minute. Much of the time I made quite a fool of myself running about like a typical mad dog in the midday sun, dragging a tree branch with a pack of exuberant cats following, or waving a twig in the air while Yai the photographer captured the enigmatic expression of one cat or another.
The gorgeous young male Wichien Maas cat in the top photo was my especial favourite. We had quite an affair, he and I; I carried him about cradled in my arms like a baby, and like any other holiday romeo, he swore undying love. But it was true love: of that I am sure. Tears came to my eyes when I felt I had to explain about quarantine, and the fact that I would leave, and he would never see me again.
I tried to capture the perfect photo of him, but he led me a real dance to punish me for my impending desertion. For almost the whole two days (he did pose for Yai, but not for me) I chased him up and down trees, ambushed him at every oasis, pleaded, desperately, as the light faded on the last afternoon, for just one photograph to take home and cherish forever.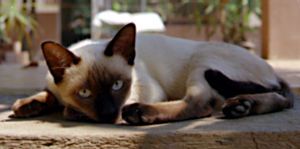 Finally, as the light changed from searing white noonday heat, through all shades of lemon to yellow, and finally to a rich, long-shadowed amber, he acquiesced. In those last precious minutes of available light on the last day, I lay down on my stomach in the dust while he posed on a step and stared sultrily through lowered lashes into the camera, and I finally got my longed-for pictures. He allowed me two, and no more. Then he was up, running, tail askew, to join the queue of cats waiting in the pre-sunset moments for their evening meal and forgot all about me.
I stayed one more day in Chiang Mai. It truly is a lovely city, nestled among the mountains, and on the final day, Yai and I took a hair-raising songthaew [converted pick-up truck] ride into the peaks to visit a hill-tribe village.
The most depressing sight I have ever encountered was here. No fewer than six dried, polythene-wrapped tiger's penises were on sale. Yai, who had worked for a Thai wildlife rescue organisation in the past, was as shocked as I was. These pitiful items were coming from Burma, smuggled across the border, and for me the worst aspect was that, although the penis is the most prized part of the tiger, the price was less than £20. Who can put a price on the life of a tiger? But to see the main reason for the creature's loss of life reduced to such a small sum was devastating.
Back to Thai cats, though the smaller kind seemed less significant while I contemplated the terrible fate of the larger. In modern times, the average Thai prefers dogs, as testified by the huge number of puppies of all breeds on sale at the Chatuchak Weekend Market in Bangkok, including the beautiful Si-Sawaat ridgeback, a striking silver-blue native Thai breed now being exported to other countries across the world. Persian kittens are regularly on sale, the breed of choice for wealthy Thais, and an exotic novelty. Long-hair is absent from the native gene pool and most Thai people have never seen a fluffy cat of any sort. Sadly,

most of the pets sold at the market are destined to succumb to serious disease before long.
While the Thai Ridgeback dog has an assured future, only a few cat lovers are willing to perpetuate the traditional Thai cat breeds. With no registration body or show organisations to look after the interests of native Thai cats, for how long will this continue? The Roses admit they would like to retire from cat breeding, and when they do, a important bridge between Eastern and Western cat culture will be lost.
Just as the little blue Korat has found a place in the cat world, could there also be room for the other natural Thai breeds, bred to a standard which preserves their "original" features and beauty? If so, ready waiting, are black Ninlarats (Dark Sapphires), odd-eyed white Khaao Maniis, harlequin patterned Gao Taems, sleek Coppers both light and dark, and of course the truly

traditional, original Siamese, the Wichien Maas [Moon Diamond] of the Cat-Book Poems. A host of ancient, beautiful cat breeds, all with the people-loving Thai-cat temperament and moderate, graceful type, willing to bring centuries of their own history to a cat world with a penchant for fancifully-named man-made breeds.
Thailand, a country which prides itself on its unique culture and heritage as an uncolonised nation, has yet to fully acknowledge its most famous cultural export: the individual, irrepressible Siamese Cat. It might be down to us to ensure that none of Thailand's cat heritage is lost to future generations.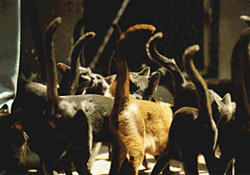 © Sue Brown/Martin Clutterbuck/Jakkapat Kangwan 1999

---
Further information about Thai cats and Siamese can be found at

incorporating "The Legend of Siamese Cats"